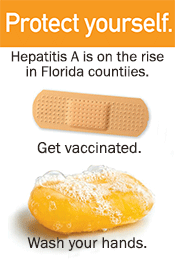 State Surgeon General and Department of Health Secretary Scott Rivkees, MD, has declared a public health emergency and issued a public health advisory addressing the rising number of in hepatitis A cases in Florida due to a national outbreak. In addition, the Department has launched Floridahealth.gov/hepa, a dedicated webpage with detailed information about hepatitis A, such as FAQs, surveillance data and fact sheets for the public, physicians and other healthcare providers, and food service workers.
Dr. Rivkees emphasized that hepatitis A is highly contagious and therefore a serious public health threat. He urged physicians to be aware of their patients who are at higher risk and could benefit from education about prevention through vaccination and sanitation. According to the Department, 2,034 cases were reported in Florida from Jan. 1, 2019 through July 27, 2019.
"The best way to prevent hepatitis A is through vaccination," Dr. Rivkees said. "It is important that we vaccinate as many high-risk individuals as possible in order to achieve herd immunity.
For more information on hepatitis A, contact the Department at [email protected] or 1-844-CALL-DOH (844-225-5364) Monday-Friday from 8 a.m. to 5 p.m.